Add your review
SODAQ SARA Small Form Factor (SFF) N211 including PCB Antenna and GPS Antenna
SODAQ SARA Small Form Factor (SFF) N211 including PCB Antenna and GPS Antenna
Article code
8719324913331
2-3 days
A nifty, industry standard IoT developer board that allows you to utilize NB-IoT networks with integrated GPS, Accelerometer and Magnetometers, Grove Connectors, JST connectors and Arduino compatible open source software that allows for low-power tracki Read more
Buy

10

for

€75,95

each and save

5%

5% Discount

Buy

50

for

€71,96

each and save

10%

10% Discount

Buy

250

for

€63,96

each and save

20%

20% Discount
Description
What is the SODAQ SARA SFF N211?
The SODAQ SARA SFF N211 is an NB-IoT Supported, Arduino compatible, developer board that gives you access to NB-IoT bands 8 and 20 implying coverage across Europe, South Africa and a few other areas. The name "SARA SFF N211" originates frofm the powerful cellular module utilized within this board. Evidently, this module alone does not make the SODAQ SARA SFF the powerhouse it is - for that, we developed a low power consumption board that can be powered by solar / battery (2 JST connectors). Furthermore, we built in a range of high quality modules such as our integrated Microcontroller (Microchip Atmel SAMD21), GPS (uBlox EVA 8M for GPS, Galileo, GLONASS, and Beidou support, depending on the variation you pick) and Sensors (LSM303AGR digital magnetometer and accelerometer). The board further comes with a small (NB-IoT) antenna that connects to the uFl port as well as a small ceramic GPS Antenna to get your prototypes off the ground straight away!
However, there's one thing that really sets this engineering masterpiece apart. Namely, the size - a miniscule 50 mm x 25.4mm. That's around the size of a small matchbox! 
What can the SODAQ SARA SFF N211 do?
Besides being able to implement this device into almost every project due to it's tiny size, this device also packs quite the punch with it's extensive list of features
Imagine you need to create a new IoT project where you need to track multiple containers / cows / literally anything over a range of countries. SODAQ boards provide the ultimate low power solutions that would allow you to bring your devices to fully sustained autonomy. If you were to put this SODAQ SARA SFF board in an enclosure, attach a small battery and a solar panel, you have a fully autonomous solution that requires no manual adjustments. Updates? Easy, these can go over the air. Support? we have a forum for that where our engineers answer any questions.
By utilising the SODAQ SARA SFF, you already have a full solution as it has a GPS built in, which would allow for tracking, as well as an accelerometer to detect movement. Whenever the device is moved, you could, for example, program it to send the GPS location. Everything is fully customisable, making this the perfect board for prototyping and scaling. The power consumption in sleep will be ~26uA.
What makes it so special?
We have now established a few things: firstly, this board is able to utilize NB-IoT 8 and 20 implying that you can send your data over a tested network with the power of the latest module, with minimal energy expenditure, allowing for longevity of projects. Secondly, this board has GPS, accelerometers, microcontrollers and antennas built in, meaning that you get an off-the shelf product that can act as a tracking device. Thirdly, this thing is tiny for the immense amount of built in features. Remember - it utilizes NB-IoT, has built in sensors and is fully programmable. All for the size of a matchbox.
Two more things set this board apart:
1. The SODAQ SARA SFF is fully Arduino compatible. This means that every single open-source code written can be used on the SODAQ SARA SFF. On top of this, you can attach it to a SODAQ ONE baseboard and instantly connect a range of grove connectors, allowing you to connect whatever sensors you want to the board. Want your project to involve the measurement of water quality? Attach a water quality sensor to the base board grove connector. Want it to act as a portable security device? Attach a IR sensor through the grove connector. The possibilities are endless with this device, especially given it's potential autonomy that you would not get with the traditional boards and their heavy power consumption.
2. SODAQ knows quality. This implies that every product we release involves countless R&D projects and thorough testing before bringing anything to the market. This is also the reason why key IoT players such as Vodafone choose our hardware to demonstrate the power of their network. They wouldn't choose our boards if they could not maximise their network, establishing an objective level of robustness in our designs.
Sounds good, what's the next step?
The steps are simple:
1. Purchase a SODAQ SARA SFF board
We offer quantity discounts, which can be viewed here. These discounts are automatically applied when you make a purchase in our store. Want custom designs? This is certainly possible, just contact us at [email protected]
2. Set up your SODAQ SARA SFF board
Our engineering team has set up a page to help set up your board. This can be viewed here
3. (Optional) Utilize our pre-configured Sketches
Low power sketch will allow you to maximize energy efficiency of our boards. This can be viewed here
Universal tracking will allow you to utilize all the tracking features of this board and customize whatever aspect you require. This can be viewed here
Learn how to read battery voltage, read GPS, Temperature and other features here
Feel free to browse our old support page, or our new support page for more information.
Note: We sell this board in three variants, please ensure you are purchasing your preferred option. For a clear overview, view the table with the main differences above. Feel free to browse our new support page for more information.
How can I visualize my data?
Dashboard
We have tested the Universal Tracker Code with the following dashboards:
AllThingsTalk
Create your account on and sign-in on the AllThingsTalk Maker
If you have an activation code, simply claim your device
Cayenne from MyDevices
Create your account on and sign-in on Cayenne
ThingsBoard
A Thingsboard tutorial will come soon
Ubidots
Ubidots made a tutorial how to connect our SODAQ ONE sending over The Things Network and show it on the Ubidots dashboard.
Demo
Below is an example of a water quality project we created for a client with our SODAQ AFF board. We utilised an EC sensor (electrical conductivity) attached to our SODAQ SARA boards to consistently send a signal of water quality, powered autonomously by the sun and tracking a range of things such as temperature, speed, location and evidently water quality. This is the overview of one board, but you could create comparison charts as evident on the picture to contrast between measurements at certain locations.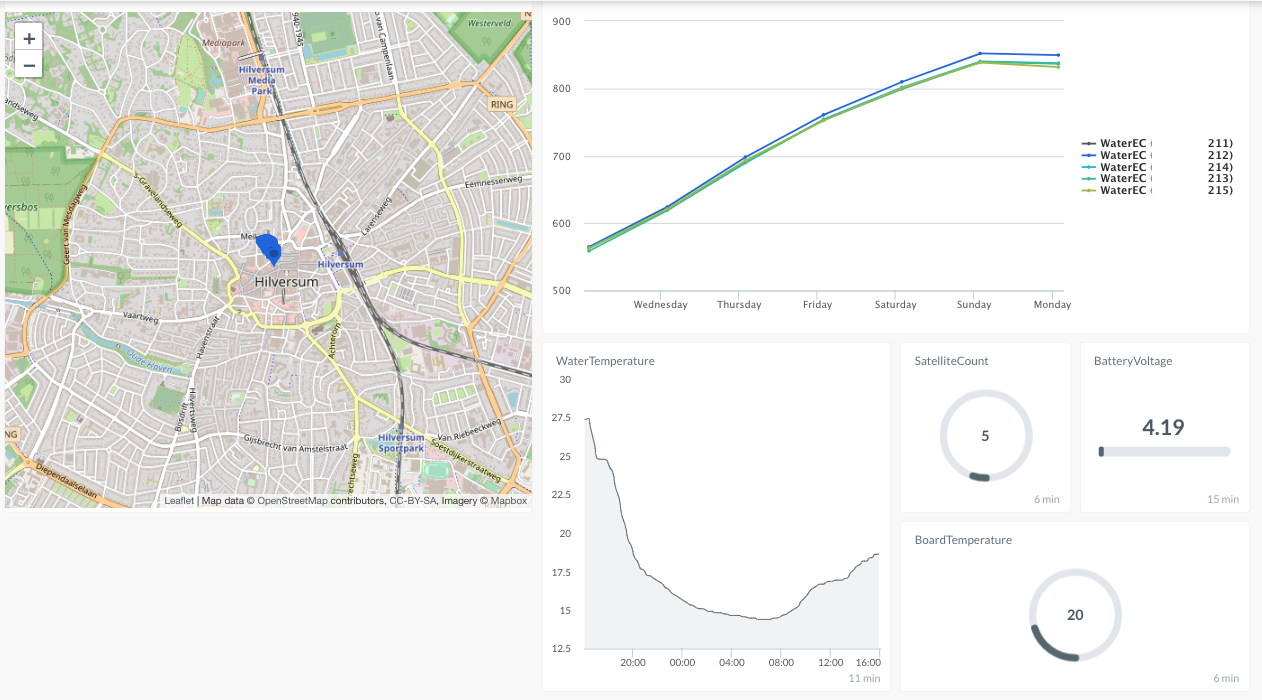 Another example of a successful integration of this product is the utilization of our universal tracker code. Here, we simply uploaded the aforementioned universal tracker code for an easy read of a few key variables: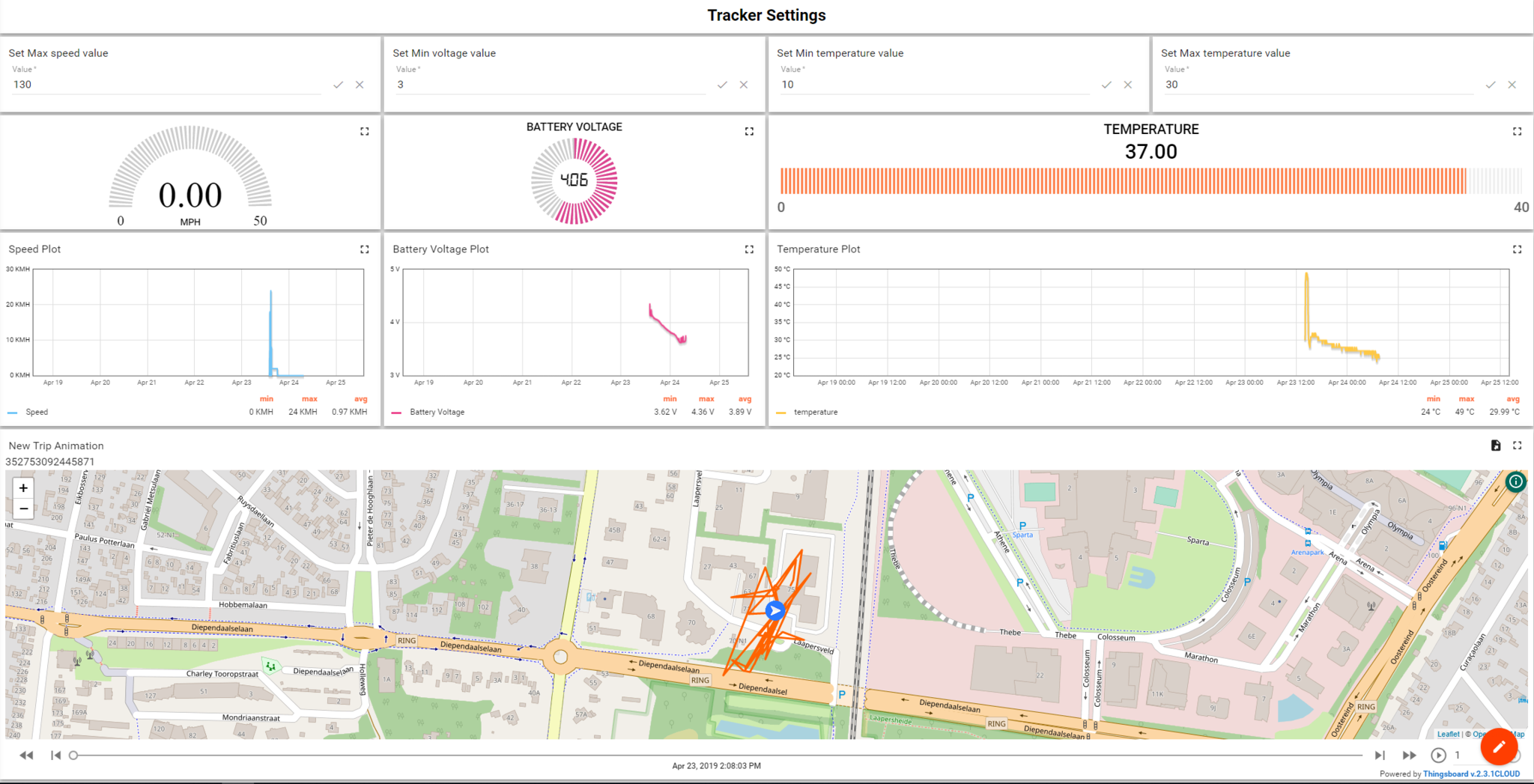 Specifications
Function
Specification
Microcontroller

Microchip Atmel SAMD21, 32 bit Arm Cortex

Arduino compatible

NB-IOT/LTE-M Module


uBlox Sara N211 (Bands 8 and 20)

 

 

GPS

uBlox 8M

Sensor


LSM303AGR digital magnetometer and accelerometer

Network


When purchasing the default option, we recommend contacting your local provider for a Sim Card compatible with the board.

Antenna

 

The boards get supplied with a U.FL PCB antenna.

Operating Voltage

 

3.3V

I/O Pins

14

Analog Output Pin

10-bit DAC

External Interrupts

Available on all pins

DC Current per I/O Pin

7mA

Flash Memory

256 KB

SRAM

32KB

EEPROM

Up to 16KB by emulation

Clock Speed

48 MHz

Power

5V USB Power and/or 3.7 LiPo battery

Charging

Solar charge controller, up to 500 mA charge current

LED

RGB LED

USB

MicroUSB Port