Add your review
SODAQ ONE EU (RN2483) v3- LoRa Enabled including a GPS Antenna and a Molex antenna
SODAQ ONE EU (RN2483) v3- LoRa Enabled including a GPS Antenna and a Molex antenna
Article code
8719324913096
A small scale (45x25mm) prototyping board for the LoRa RN2483 to develop internet of things applications. Named the SODAQ ONE (EU), it includes a LoRa and GPS Antenna. Read more
Buy

10

for

€61,70

each and save

5%

5% Discount

Buy

50

for

€58,46

each and save

10%

10% Discount

Buy

250

for

€51,96

each and save

20%

20% Discount
Description
This is the European version (868MHz). For the US (915MHz) version
click here
.
Overview:
This is the third generation of our successful SODAQ ONE development board. It is equipped with a solar charge controller and runs on a LiPo or a permanent battery. It has the Ublox Eva (M)8M GPS module (depending on which version is chosen). This module is not only miniature, but with it's assisted GPS feature it can get a fix within seconds. We've now added an extremely low power Accelerometer/Magnetometer. This gives the board a nifty feature where it can stay in (deep) sleep mode until it moves. An essential feature for developing low power devices.

Let's imagine you want to develop a bicycle tracker using the SODAQ ONE. You would like to track the position of the bike, but only when it has moved. This is possible if you keep the device in deep sleep until it detects motion. If the motion continues for a while, the bicycle may have changed position so only then the GPS will switch on to get a new reading and send this location over the LoRa network. Efficient right? This system will allow you make most efficient use of your battery capacity by only using the GPS when really needed, essentially increasing the battery life of your system. 
The board is so small (45x25 mm) you can fit it inside almost anything (Seriously, look at the picture). Whether you want to build a weather station, control street lights or get a signal when you have received (snail) mail. It's all possible with the SODAQ ONE.
New in this version is that we have added JST headers (receptacles) so you can now directly plug in a LiPo battery and Solar Panel if you like.
Specifications:
| Specifications |   |
| --- | --- |
| Microcontroller | ATSAMD21G18, 32-Bit ARM Cortex M0+ |
| Compatibility | Arduino M0 Compatible |
| Size | 45 x 25 mm |
| Operating Voltage | 3.3V |
| I/O Pins | 14, All can be used for digital and 12 log with PWM, UART, SPI and TWI (I2C) |
| Analog Output Pin | 10-bit DAC |
| External Interrupts | Available on all pins |
| DC Current per I/O pin | 7 mA |
| Flash Memory | 256 KB |
| SRAM | 32KB |
| EEPROM | Up to 16KB by emulation |
| Clock Speed | 48 MHz |
| Debug  | Serial Wire Interface |
| Power |  5V USB power and/or 3.7 LiPo battery |
| Charging  | Solar charge controller, up to 500mA charge current |
| LED  | RGB LED |
| LoRa Microchip | RN2483A |
| GPS  | uBlox EVA 8M |
| Accelerometer/Magnetometer | LSM303AGR |
| USB  | MicroUSB Port  |
| LoRa Antenna | Molex antenna included |
| GPS Antenna | Medium GPS antenna included |
Demo:
This board is fully programmable implying that the below demo is not an accurate representation of the boards full potential. We have loaded our universal tracker software onto Cayenne following the tutorial on our support page, and within minutes we created a fully operational tracking device.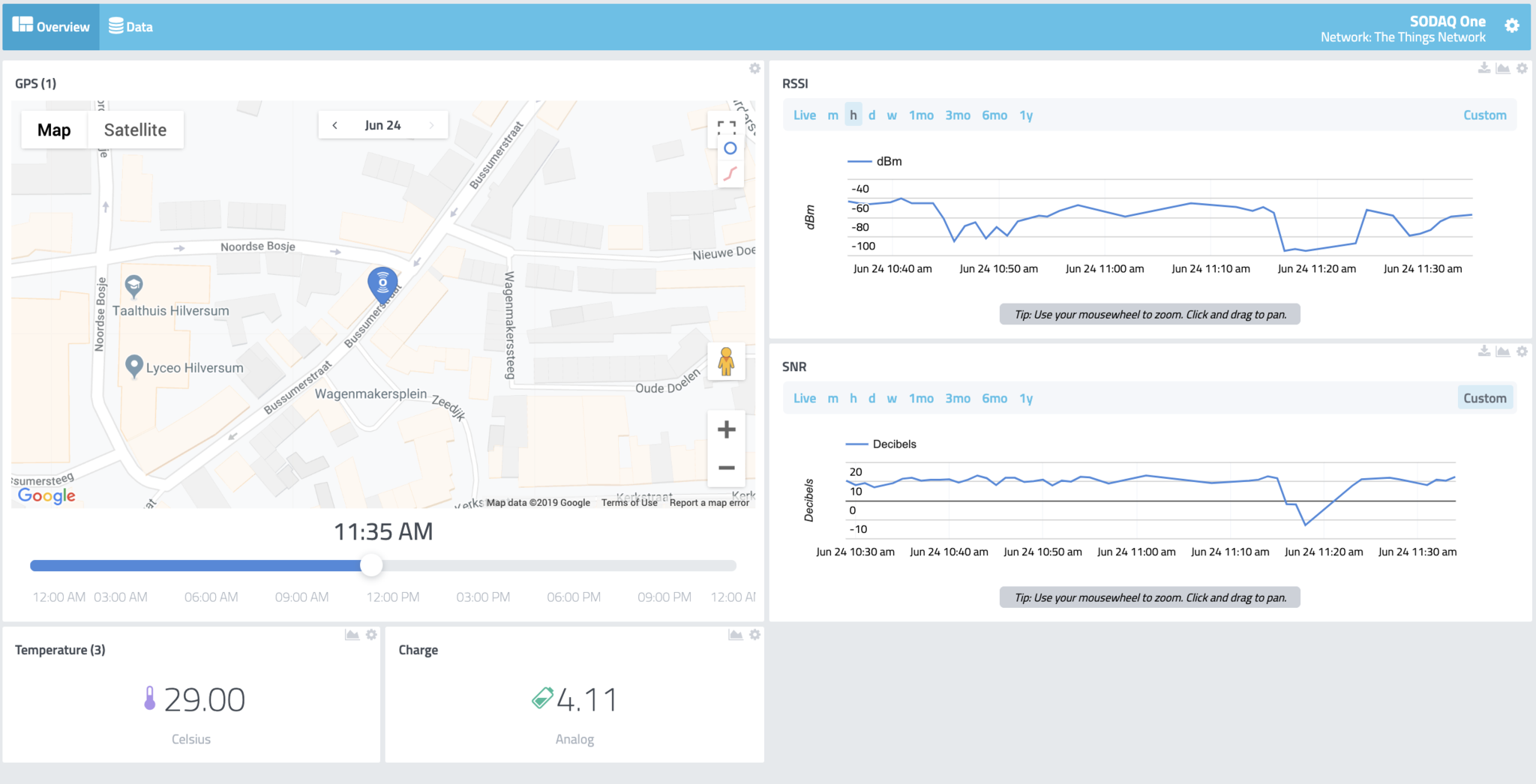 What options do I have for visualisation?
Dashboard
We have tested the Universal Tracker Code with the following dashboards:
AllThingsTalk
Create your account on and sign-in on the AllThingsTalk Maker
If you have an activation code, simply claim your device
Cayenne from MyDevices
Create your account on and sign-in on Cayenne
ThingsBoard
A Thingsboard tutorial will come soon
Ubidots
Ubidots made a tutorial how to connect our SODAQ ONE sending over The Things Network and show it on the Ubidots dashboard.
Intended use
The SODAQ ONE is a development/evaluation tool intended for the evaluation of Microchip wireless modules in a Research and Development laboratory environment. It is not a Finished Appliance. Manufacturers who integrate SODAQ ONE in a Finished Appliance must take responsibility to follow regulatory guidelines, for example for CE marking.