Grove – LED Bar is comprised of a 10 segment LED gauge bar and an MY9221 LED controlling chip. It can be used for different applications. Read more
Description
Overview:
Comprised of a 10 segment LED gauge bar with the MY9221 LED controlling chip, this Grove LED Bar will offer new possibilities for your projects. Whether used as a battery indicator, voltage, water level, music volume or any other values that could require a gradient display, this unique module has a wide range of usages. There are 10 LED bars in the LED bar graph which you are able to use: one red, one yellow, one light green, and the rest green. View an example below: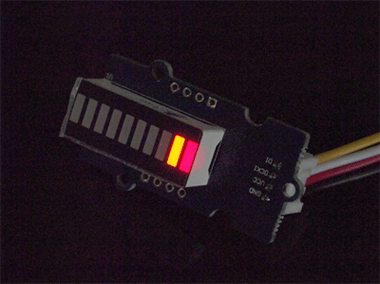 Features:
Each LED segment can be controlled individually via code
Grove module
Plug-and-play
Can be cascaded for a larger display
Flexible power option, supports 3-5.5DC
Available demo code
Application Ideas:
Gadgets that need a graphical indicator
Indicators for sound intensity, battery level, etc.