Add your review
SODAQ Water Quality Station (EC)
Description
What is this SODAQ Water Quality Station (EC)?
Electrical Conductivity is a measure of the ability of water to conduct an electric current. By reading the level of total dissolved solids and salinity within water, the EC-meter is able to read the level of conductivity (EC) within the water. This can be used as an indication of water purity. The more pure the water is, the lower the electrical conductivity (think for example, about distilled water). On the other hand, the more "dirty" the water is, the higher the electrical conductivity (salt-water). The unit of measurement for EC sensors are mS/cm (mili Seimens per centimeter) The SODAQ EC-Meter allows you to accurately measure the EC levels in water, as well as temperature (water and board), location and speed. The full list can be viewed below, along with the function. This EC-Meter can be connected to whatever dashboard you prefer. For example, we utilised AllThingsMaker to visualise the following dashboard, with 5 EC-sensors attached.
Measurements:
hMSL -> height from sea level (in meters)
WaterTemperature -> temperature of the water (celcius)
WaterEC-> conductivity of water (EC, measured in mS/cm)
TimeActive -> time the sensor has been active since reset
TimeStamp -> time stamp from coordinates
TimeToFix -> time to GPS fix
Speed -> movement speed (measured by GPS) 
SatteliteCount -> number of satellites connected
RCause -> cause of reset
LastResetCause -> use RCause to translate to reset cause
Location -> GPS Location
IMEI -> IMEI (identification)
Heading ->

 direction the meter is facing

BoardTemperature -> temperature of the board
BatteryVoltage -> Range (3.3V to 4.2V) where 4.2V represents a full capacity 
Use Case:
As always, SODAQ products are extensively tested in the field and have been used by big name clients such as the Dutch police. Since 2018, SODAQ is working with the Dutch police to monitor the quality (EC) of water within canals overtime to detect changes and monitor potential dumping of unwanted substances. You can view the video below (it is in Dutch!) in which they outline the benefits of monitoring water quality. They further mentioned how crucial it is for the consumption of fish & water (as the water is filtered for drinking purposes). Evidently, if water quality is disrupted, potential damages can be quite substantial. It is therefore crucial to not only monitor the water quality, but also to know it's location so you can act upon it. This is the solution that the SODAQ EC-meter provides.
Dashboard:
For demonstration purposes, we have chosen to link the EC sensor to AllThingTalkMaker, but you can choose any visualisation platform you like. The powerhouse being the sensor is the SODAQ SARA AFF, which is a fully programmable, NB-IoT/LTE-M based prototyping board that can be written in the Arduino IDE.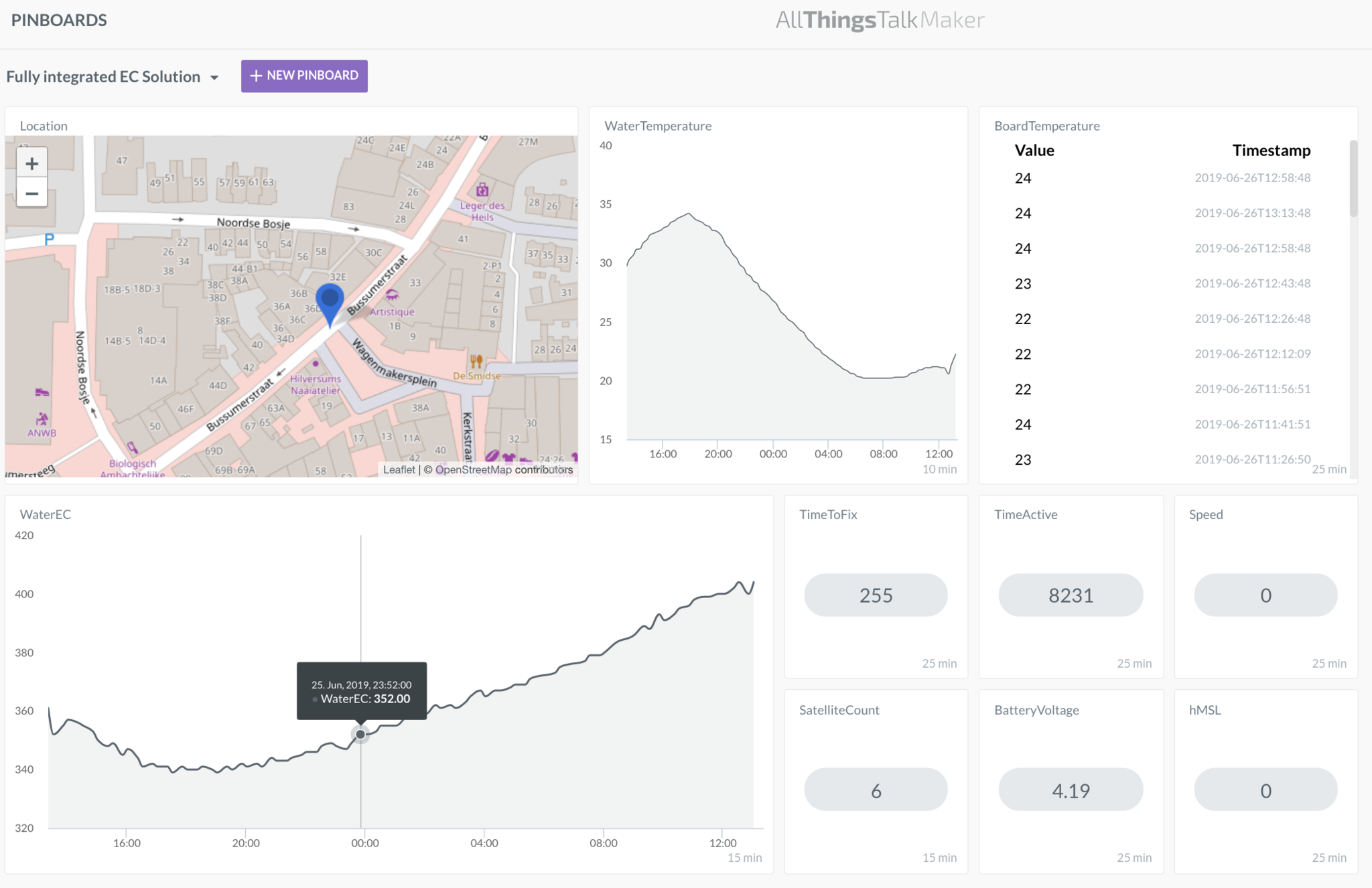 Kit Options
Option 1: EC Sensor Only (UARTS CONNECTION)
Option 2: Fully Autonomous EC Sensor Kit with Solar Panel
A SODAQ SARA AFF with a battery and required antenna (enclosed in outdoor housing) 
An EC Sensor
Solar panel to keep item charged
A mounting bracket
Option 3: Fully integrated EC sensor solution, full service lease model (contact us)
We can offer you custom designs with SODAQ EC-Meter technology. To achieve this, feel free to contact us at [email protected] 
Discounts apply at orders above 10 units